While the NBA is on COVID-19 hiatus, Jason Oliver is reliving some of the most notable upsets and best bookie beats over the years. This week, 13 points in 33 seconds.
We're going back to 2004 for this one.
The Houston Rockets are hosting the San Antonio Spurs in December.
Coming into this one as -8 favourites, the 16-4 Spurs appeared to have the game in the bag with one minute remaining. They had a 74-64 straight up lead with one more made basket and remotely competent defence surely enough to cover the -8 spread for punters.
Enter: Tracy McGrady
His reputation and the way he's remembered should be at a higher level. Injuries plagued a career that had the potential to be one of the greats. Instead, in the seven seasons after this one, McGrady played in 60+ games only twice. He was out of the NBA in 2011-12 at just 32-years old.
"Keep going at him [Jordan] – serve him. He can't guard you!"https://t.co/6V1lSOcM4l

— Jason (@SportsJO13) May 5, 2020
Nonetheless, producing one of the greatest individual comebacks in NBA history is a decent way to be remembered.
T-Mac scored 13 points in just 33 seconds for the Rockets to not only kill off the spending spree Spurs -8 punters had already planned, but to also claim an incredible 81-80 win.
He gets the comeback started with a nice enough above-the-break three. It's the four-point play that really builds the belief that this one isn't over, though.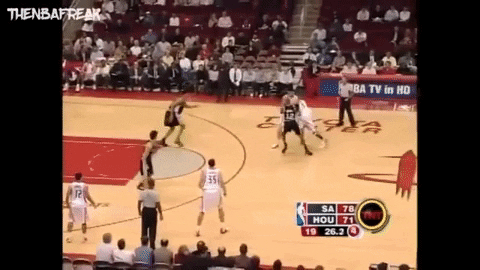 The Houston crowd fires up and stands to their feet while the heads of the Spurs players drop and their shoulders slouch. What was once a routine last minute of a game is all of a sudden a dog fight.
Tim Duncan knocked down two free throws to push the Spurs lead out to 80-75 with 16.2 seconds remaining, but McGrady only needed five seconds to receive the inbounds pass, drive to his right, and rise up over Bruce Bowen – a world-class defender.
Splash – 80-78 with 11.2 seconds left.
Spurs -8 punters had given up hope. The straight-up win still seemed a formality, though. In-bound the ball, take the foul, knockdown two free throws – game over.
Not so fast.
Devin Brown turned the ball over.
And who was credited with the steal?
The man of the moment.
He weaved his way up the court, stopped short of the three-point line, and threw one up leaving just 1.7 seconds on the clock.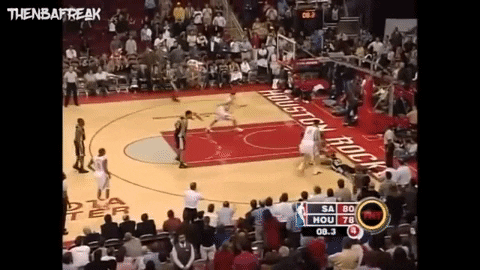 It's one of the most memorable moments in NBA history. Even if Spurs punters remember it for the wrong reasons.
Read More: Pistons Make Finals History